Services
How To Eliminate Computer Problems Finally And Forever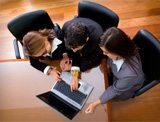 Many businesses find it challenging to deploy, maintain, and protect their technology. Whether you're looking to keep IT costs predictable, avoid unexpected problems, communicate more effectively, or make a plan for business continuity, Hodgson Consulting & Solutions has a solution for you.
Had Enough of Your Network Running Slowly? I wish I could afford for someone else to handle my IT support for me! Have you ever thought this about your technology?
If the answer is yes, Hodgson Consulting & Solutions can give you the IT Support and IT Management to stabilize your technology in the Chicago Area.
With flat-rate IT Management services, we can make simple IT Support a reality for your business.
With Hodgson Consulting & Solutions as your trusted partner in IT support, we will:
Fully consider your business, budget and your expectations in order to serve YOUR IT Support Services wants, not our own.
Provide computer support that will prevent disastrous data loss and down time from occurring, instead of watching it go up in smoke.
Back up all the Technology Services we recommend, by giving you our 100% guarantee.
Hodgson Consulting & Solutions strategically and proactively manages your network by providing IT support that prevents problems before they become major headaches. Serving the Chicago Area we act as your partner in providing the IT Management support and computer network maintenance that will put you in a position to prosper.
No matter if your business needs network consulting and systems management services, network maintenance services, IT support, computer wireless networking installation, network and server support, remote & on-site support, or IT management services, you can count on us.
As experts in the technology industry, we can help you optimize your IT investment, reduce technology-related stress and bring your focus back to your core business. When you no longer have to worry about dealing with IT Support and computer network maintenance, you can focus on achieving higher success.
Services we provide:
Troubleshooting and problem solving on all networks and PCs
Hardware installation and support
Virus and spyware removal and protection
Security solutions
VPN (Virtual Private Networks)
Remote access
Server installations and upgrades
Spam filtering and e-mail solutions
Internet connection
System backups, onsite and offsite
Complete network management and support
Help desk
Solutions from Hodgson Consulting & Solutions are easy, quick, and economical to implement.