VoIP Solutions
Finally - VoIP for small businesses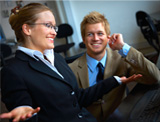 As a small business, you need every advantage you can get to compete against bigger companies with bigger resources. Hodgson Consulting & Solutions is proud to provide our clients with a cost-effective, enterprise-class solution that is easy to use and manage.

My company has been working with Bob for some time. I have been continually impressed with his ability to be forward looking and pursue a dream while being simultaneously solidly grounded in the realities of today. Bob is exceptionally competent in his areas of expertise. He has an open personality and what you see is what you get – you will like what you get. Bob is a positive personality and communicates that to others. He is enjoying success at taking what was a local company into the global arena.
Ward Larkins
VP/Partner Sales & Marketing
DLS Internet Services
Hodgson Consulting & Solutions can provide and install a VoIP system that is:
Affordable - low cost with no extra set-up, installation, or maintenance fees
Easy to use - including an intuitive, user-friendly interface
Reliable - your hosted system is monitored and maintained 24/7
Mobile - calls can be taken in other locations, via laptop or forwarded to a mobile phone
Let HCS show you how VoIP can help you stay more connected, more easily. Our simple set-up process will have you making and receiving VoIP calls in minutes.
See how easy a VoIP phone system can be.