Security
Proactive computer data security and network security for companies in Chicago, Schaumburg and Northbrook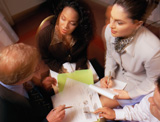 Does The Threat Of Computer Viruses, Hackers and Malware Constantly Get In The Way Of Doing Business? "I can't possibly keep track of every employee's flash drive containing valuable data." Is it just annoying you even more now?
With complete Computer Data Security that's created with your specific business needs in mind, you can end anxiety over the many threats to your business and data and get Virus Removal in case something does go wrong. Our Wireless Network Security has you covered, so you don't have to worry about anything except running your Chicago, Schaumburg and Northbrook business.
With a well-planned security architecture from HCS, you get:
Enhanced productivity, with data security management solutions that won't let computer issues interrupt your business.
Virus and spam protection, with network security solutions that cover all your bases.
A partner in security, working as an extension of your business to create top-of-the-line solutions.
When your security solution covers all the bases of data and network protection, you can rest easy knowing your business is in good hands.
The consultants at Hodgson Consulting & Solutions are experts in creating security solutions that will fully protect your business from all that's out there. Offering businesses in Chicago, Schaumburg, Northbrook, Gurnee, Arlington Heights and Buffalo Grove, we offer the Wireless Network Security solutions that can give you the peace of mind to stop worrying about security and get back to business as usual.
Whether your business wants antivirus and Internet protection, intrusion blocking, wireless network security, data protection, computer data security, virus removal, computer & PC security, network antivirus solution, or wireless protection, we'll handle it.
If using the Internet is part of your daily business process, you are have already put your company at risk. Protect yourself with Computer Data Security and Virus Removal services before something goes wrong.