On Demand Services
Flexible IT Help and Computer PC Repair for businesses in Chicago, Schaumburg and Northbrook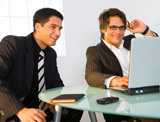 Are You Sick And Tired Of Paying Slow And Imcompetent IT Guys? "Why can't I get computer software help that's both affordable AND reliable?" Sound familiar?
Hodgson Consulting & Solutions is there when you need affordable IT help and computer PC repair to run your Chicago, Schaumburg and Northbrook business.
With HCS as your partner in technology, you can expect:
Affordable support, by using the pay-as-you-go fee structure for your IT help.
A team of IT experts on call, without incurring the cost of hiring a full-time Technology Support guy.
Fast response times in the event of a technology issue, reducing the downtime associated with not being able to use your computers.
Computer Help & IT Support On Demand lets you depend on your technology, even when the inevitable occurs.
HCS provides expert IT support and computer repair only when you need it, so you can enjoy the benefits of advanced technology without worry. Serving Chicago, Schaumburg, Northbrook, Gurnee, Arlington Heights and Buffalo Grove, our affordable computer software help is at your disposal, reducing frustrating and costly downtime.
If you need PC tech support help online, computer diagnostics, remote PC repair, software help, computer repair services, software help, online computer support, computer help, computer and technology support, fix computer problems, or PC help & IT Help, you can depend on us.
Want to finally eliminate expensive downtime? Get a better solution, with affordable IT help that's there when you need it.