Business Continuity Planning
Complete solutions for data backup and disaster recovery in Chicago Area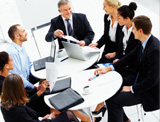 Would Your Business Survive If Your Company Data Disappeared?
If you're worried about the future of your business, Hodgson Consulting & Solutions offers comprehensive Disaster Recovery and Computer Hard Drive Backup that will put your mind at ease.
With a Business Continuity Planning and Disaster Recovery solution from Hodgson Consulting, your business can depend on us to:
End your anxiety over natural and manmade disasters that could put you out of business, by offering solutions for comprehensive and advanced Data Backup.
Decrease downtime in the case of a disaster, with practical strategies for Recovery and Back Up that will have your business running smoothly again in no time.
End your reliance on outdated tape backup systems, with modern Business Continuity solutions that continually back you up.
When everything you've worked for is no longer in jeopardy, running your business is a cinch.
Even in the event of a major disaster, backup solutions from Hodgson Consulting can keep your business going strong. Serving businesses with our dependable data backup and computer hard drive backup services can take the fear out of running your business.
Whether you are in need of Computer Hard Drive and Data Backup, Virtual Data Recovery, File Data Recovery, Computer Recovery, Remote Data Backup, Offsite Data Backup and Recovery Services, Data Storage solutions, and Disaster Recovery or Business Continuity Planning Service, you can count on our reliable support.
When you're no longer afraid of losing everything, you stand to gain the most. Uncover the simple answer to your Disaster Recovery and Data Backup concerns.