Hodgson Consulting & Solutions Is Here To Help
We understand these are unique times and "business as usual" is going to be quite different for an undetermined amount of time. That's why we're doing everything that we can to serve our community, by helping companies stay in business until things return to normal.
To help you adjust to today's new normal we are giving you the tools, technologies and insights to create a secure and productive work-from-home business environment.
With these resources you will learn: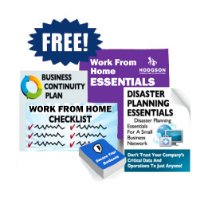 The essentials things you MUST put in place to convert your business to a work from home business for you and your employees
How to work from home in a way that keeps your network and your data safe and secure.
How your team can utilize tools and technology to effectively communicate and collaborate as a distributed workforce
What you have to do now to keep your business stable and profitable in a time of crisis
We'll also sign you up for our Security Tip Series and Cyber Security Alerts to notify you if a new and highly dangerous threat is released, so that you and your employees can be on high alert.
If you need our help along the way to work with you to make sure your business is set up for success in the coming weeks and months, we're here to support you in every way we can. Just give us a call us at 847-906-5005 or www.hodgsonconsulting/free-consultation