Improve Productivity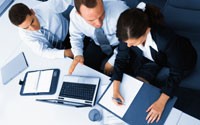 Why should you have different publishing systems for your intranet, extranet, and Internet? You want people to use the tools they're familiar with and integrate those with your single enterprise content management system.
Let Hodgson Consulting & Solutions show you how to increase productivity within your organization.
Building a flexible and affordable IT environment is key to improving productivity. Hiring Hodgson Consulting & Solutions to handle all of your IT needs can save your business money, because we have the expertise to help you build a flexible and affordable IT environment. An IT services provider can help you with the following:
Simplify Everyday Tasks
Some of the most common tasks on a computer can take up your valuable time, simply because these tasks involve repeated or complicated steps. Just imagine if you could get through repetitive tasks more quickly by taking shortcuts-without compromising quality. Hodgson Consulting & Solutions can help you get more done by simplifying repetitive, routine tasks.
Working Outside the Office More Easily with Mobile Technology
Mobile working can offer many great benefits, such as more face time with customers, a better balance between your work and personal life, less need for office space and happier employees. Hodgson Consulting & Solutions can help you work from anywhere at home, a customer site, the airport-without missing a beat.
Make Smarter Decisions by Quickly by Getting Key Insights
How often do you end up making important decisions using gut instinct, simply because it takes too long to find and analyze your data? Hodgson Consulting & Solution can help you make smarter decisions by quickly getting key insights into your business-allowing you to spend more time using your data and less time just trying to track it down and make sense of it.
At Hodgson Consulting & Solutions, we have the broadest vision for what productivity actually is. Productivity is not merely about desktop documents, word processing and spreadsheets. We believe modern productivity should be a seamless experience. Productivity means:
The ability to find the productive people.
The ability to enterprise search.
The ability to search for and find people inside your company.
The ability for greater collaboration.
The ability for enterprise content management.