From the Justice System To Big Business, Hackers Aren't Afraid To Attack On All Levels
By Hodgson Consulting & Solutions | July 12, 2019
Breach Alert:
Earlier this month officials confirmed that "at least a portion of the digital information systems for Georgia's court system ha[d] been taken offline by a ransomware attack after a note was found requesting contact." (www.11alive.com, 2019) The exact extent of the damage created from this ransomware attack is not clear. However, it was powerful enough to shutdown the website for Georgia's Administrative Office of the Courts and Judicial Council of Georgia. Due to the compromise to the systems, officials "quarantined the servers and shut off the network to the outside". (www.11alive.com, 2019) Additionally, officials stressed that no private information was taken.
In addition to Georgia, the U.S. Virgin Islands Police Department found itself being struck by a ransomware attack recently as well. According to www.scmagazine.com, "The U.S. Virgin Islands Police department was hit with a ransomware attack in April that targeted servers housing internal affairs records and citizen complaints while the territory's water department was separately hit with a business email compromise (BEC)." A multitude of the department's files were corrupted, but they did not pay the ransom associated with attack. Instead, they worked with the FBI in efforts to decrypt the data
How it Could Affect You:
You never want to be caught in a predicament where you have to work backwards to protect yourself, your company, your customers, and your data. It is always better to be proactive rather than reactive when it comes to Cyber Security. Place the proper protections in place now so that you don't find yourself doing the following later:
Contemplating paying the ransom associated with a cyber-criminals encrypted ransomware attack on your business.
Having to involve local and federal government officials due to discovering that your networks have been the source of an attack and the gold mine for the data hackers thrive on.
Having to break the news to your clients and colleagues that you have lost their data and their trust.
Hodgson Can Help:
Hodgson has both the knowledge and the services to protect your business. Here at Hodgson Consulting & Solutions, we specialize in securing data and information loss prevention for companies with multiple locations and/or a remote workforce. Contact us to receive a FREE Dark Web Scan and learn more about our Managed Security Service Plans.
Don't wait until it's too late to try and put the proper protection in place!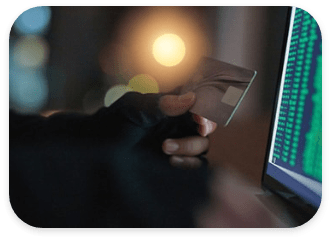 Are YOUR Credentials On The Dark Web?
Gain Peace of Mind with Our 100%
Confidential Dark Web Scan